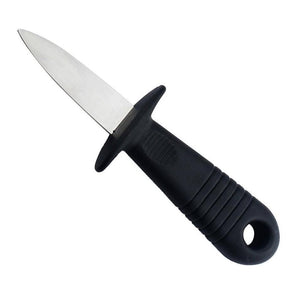 Say goodbye to prying open oysters or scallops with a screwdriver or butchers knifes and getting oyster juice all over your guests. Our stainless steel blade shucker with a rubber handle is the perfect tool for hassle-free shucking.
Crafted from durable materials, this shucker is designed to make shucking oysters or scallops easy and stress-free. The sharp stainless steel blade effortlessly opens the shells, while the soft rubber handle provides a comfortable and secure grip, so you can shuck with confidence.
Not only is this shucker a great addition to any professional chef's or seafood enthusiast's toolkit, but it's also perfect for home cooks looking to impress their guests with perfectly shucked seafood, served fresh and ready to enjoy.
Have more questions?
 check out our
Frequently Asked Questions
page.